Codename Jade is the newest Franchise in the Assassin's Creed's Series. Ubisoft earlier announced the Closed Beta Test of the game.
Aassassin's Creed: Codename Jade Mobile is one of the other new Action Games that we may see released in 2023. It is a free-to-play open-world game, where we can witness the classic story mode of the main character along with other features like Character Creation which you can witness in this Assassin's Creed Mobile Codename Jade Gameplay.
Assassin's Creed: Codename Jade Mobile Release Date
Talking about the Assassin's Creed: Codename Jade Mobile Release Date, There is no clear indication of when will the game be fully released on mobile phones, but analysing the current development, it looks like Assassin's Creed Codename Jade Mobile Download might be available by the end of the year.
This Mobile game is an RPG Action Adventure Thriller with lots of game action in Ancient China. As the game location is inspired by Ancient China, we may see a lot of Chinese Historical Architecture in the gameplay along with iconic locations & storylines.
Do you know? Assassin's Creed: Codename Jade Mobile is just a development name given to the game, The Developers may change it after they release the official game.
This Action Thriller will be available on Android as well as iOS Devices. You can play them on your Mobile Phones, Tablets or even on your Emulators. It will be optimized for touch controls and potentially for shorter, more casual play sessions compared to console and PC Versions.
Assassin's Creed: Codename Jade New Features
After analysing all the Beta Gameplay clips it indicates that the game will be having tealth, parkour, and combat. Players take on the role of Assassins fighting against the Templars. BC. The world of Assassin's Creed is full of ancient history with a lot of parkour from roof to roof, assassinations and a big open world, which you can explore with your custom character.
As per the Beta Version, the game starts with the Mediterranean Expedition, where you'll have to move forward with Kassandra in Stealth Mode, where you have to defeat Roman Troops with your swords and action-filled acrobats.
After reaching to the palace you will have to defeat the Roman General, after completing this checkpoint you'll be asked to create your characters from the given traits, where you can choose the character's eyes, Nose, Mouth, Ears and of course the name of your warrior.
In the Second Campaign, you'll be in a garden and incapacitate all the guards sneaking your way through the chambers. YOu can then enter the palace and steal the artefact. While playing the game, you'll love the beautiful Ancient Chinese Palaces.
Hardware Requirements for  the game
Ubisoft never mentioned any particular Requirements for their game, but when they released their Closed Beta Test they released a list of compatible phones. After having a look at the lists it seems the game shall be requiring at least Android 8 or more, along with at least 4 GB of RAM and others might take over 2 GB of storage in your mobile phone.
For the most formal and informal information about this Assassin's Creed: Codename Jade Mobile Apk Keep checking our blog& of course, you may follow Ubisoft's official announcements website, as new details are likely to have emerged after my last update.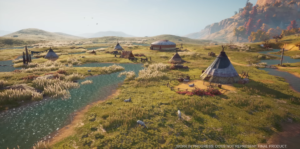 Design your own characters and explore an independent narrative exclusive to this game. The existence of other survivors is uncertain, and it poses a crucial question: There may be other survivors out there, yet will you live in peace or hurt each other?
Also See: How to Solve Internet Connection Problem in DLS 23?