The All-new EA Sports FC 24 Mobile is here, as we move forward in 2023, we are getting our hands on the early leaks, and exclusive features of the new game.
Are you ready for an immersive football experience on your mobile device? Get ready to dominate the virtual pitch with EA SPORTS FC Mobile, the latest release from EA Sports. Featuring all your favorite players, teams, and leagues, this game is set to take the football gaming world by storm. In this article, we'll dive into the exciting features and gameplay that EA SPORTS FC Mobile has to offer.
EA SPORTS FC 24 Mobile
As currently reported the game will an update to the FIFA Mobile, So you will b allowed to carry forward your teams and other progress through the game forward.
There are so many things in the game from Dynamic Cards to your Custom Trophy Parade. The game is also believed to be having First Person Mode. You can view the match from the Manager's First Person POV in the technical area. Part of the new spectate mode in Career allows you to watch & manage the game from the bench. It makes the game more realistic.
Authentic & Immersive Action
EA SPORTS FC Mobile delivers an unparalleled authentic football experience right at your fingertips. You'll feel like you're part of the action with realistic graphics, fluid animations, and precise controls. From the pitch to the stadium atmosphere, every detail is meticulously crafted to bring the game to life.
The game will be bringing flares to the games, you can see the audience lighting flares as the game gets heated. Well, it's a good addition until it glitches and your whole match is just a screen of smoke(joke).
Check Out: EA Sports Tactical Football 2022
Play with the World's Greatest Football Players, Clubs, and Leagues
As of the information available and some exclusive commentary from Donk Trading, EA Sports FC 24 Mobile will be hosting its extensive roster of players from top clubs and leagues. Whether you're a fan of the Premier League, Bundesliga, Serie A, Ligue 1, MLS, or any other major league.
They are also having some exclusive licensing with some of the top clubs. EA Sports is having an exclusive license with more than 1900 players and over 90 stadiums.
You'll find your favorite players ready to take the field. Build your dream team by assembling superstars from different clubs and creating a powerhouse squad that can dominate the competition. It will be fun to play the game with all the real names.
Latest Licenses and Authenticity
EA SPORTS FC Mobile boasts all the latest licenses, ensuring an authentic and immersive football experience. With the official licenses of the UEFA Champions League, Premier League, Bundesliga, Serie A, Ligue 1, MLS, and more.
You'll have access to genuine team kits, player likenesses, and official stadiums. EA Sports FC is the only place you can play on the world's biggest stage in both the men's and women's FIFA World Cup™ tournaments, it will be interesting to see how they roll these features through the game.
You can celebrate Trophies in career mode with a customizable Bus Trophy Parade. Things are very clear about this, but there will be some cutscenes or animation for this purpose.
See Also: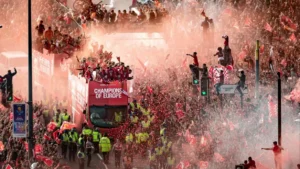 Pre-order and Platform Availability
As of the latest information, The game is available for pre-order on multiple platforms, including:
PlayStation 5
Xbox Series X|S
PlayStation 4
Xbox One
PC
Whether you're a console gamer or prefer playing on your computer, you'll have the opportunity to experience the game on your preferred platform. Although there is no information about the mobile version, so we can expect the beta version directly.
The special thing about early access is that there are some Bonuses for the subscribers like 7 Days Early Access, Women UCL Hero, 7 Days Early Access, Women UCL Hero, 4600 FC Points, etc.
Along with these one more very conspicuous feature available in the game is First Person Camera Mode. It will be really fun to play the game with First Person Camera.
Are you excited?
Get ready to immerse yourself in the world of football with EA SPORTS FC Mobile. This game brings the excitement and authenticity of the beautiful game to your mobile device. Play with the world's greatest players, compete in top leagues, and experience the thrill of virtual football like never before in this new game by EA Sports.
With its stunning graphics, realistic gameplay, and official licenses, EA SPORTS FC Mobile is set to revolutionize football gaming on mobile. So, get ready for the new EA SPORTS FC Mobile – the ultimate authentic football experience!
Let me know in the comments if you have more exclusive information about the game.