Studio Vega is back with its new season of the TOTAL FOOTBALL – SOCCER GAME. They have managed to bring Robin Van Persie as their 2023 Season Cover Star.
With realistic gameplay and HD 60fps graphics, this game has added many new features, including commentary in some local languages. The career mode is among one of the favourite sections of the game where you can play all the leaves, including the Champions League.
Total Football New Update!
This 1.7 version of Patch is a season update, so there are many significant changes and gameplay improvements in this update. The fans are loving the new update. Nadira Zhafran on Facebook says, "The update seems to be getting cooler now."
The main splash screen is covered with Robin Van Persi as he has joined the studio as their new brand ambassador and to strengthen the brand image of the game and company.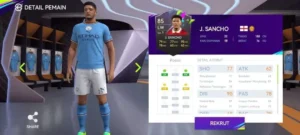 We have discussed some of the new and realistic features of the new updates below.
Overall Gameplay Improved
There has been much improvement in overall gameplay as it has become more smoother. Some updates have been done on the passing system, including the tackles and goalkeeper movements.
Auto learning AI
The AI system automatically improves as they are embedded with AI intelligence, which can learn from your gaming style, and the new auto AI feature in PVP mode helps the AI to make the game more challenging.
Auto Matchmaking
The PVP matchmaking errors have been fixed, and auto matchmaking has been introduced so that you don't have to spend enough time to find new open ends to play against in a PVP match.
The Manager Mode has been made available and fixed so you can play your Road 2 Glory Series uninterrupted.
The Game now has an Offline Mode!
We often face internet connection issues when we don't have a good mobile phone or internet service provider. As gaming enthusiasts, gamers often get annoyed due to connectivity issues.
This year, developers have made part of the game offline so you can enjoy the game anywhere and anytime without the internet, accompanied by commentators. Although you can play all the game modes in offline mode, you can enjoy the game enough that you can kill time quickly.
Localised Events
As the developer team is from Singapore, they have focused on many local aspects of the game. Many national team players and other legends of Southeast Asia present in the game.
There are even some in-game Indonesian events where you can play rewards like in-game currency & player cards.
If you can't play Total Football because of Android limitations, Follow the steps given below:
Install the LD Player Emulator (PC) version.

Then, install the game on the virtual device in the app.

Open the game and enjoy

If there is still some server issue, try using a VPN on your PC Emulator.
Check out: Everything about Assassin's Creed: Codename Jade Mobile