In terms of popularity and recognition, cricket stands second only to football. Cricket, or the "Gentleman's Game," has billions of fans all over the globe.
Moreover, some hardcore fans indulge in more immersive cricket-related activities such as fantasy cricket, which requires players to create teams consisting of real players and predict the outcome of real-life matches to win exciting rewards. The game's rules are very simple; thus, any individual wondering how to play fantasy cricket can get the job done by understanding and following all the rules of the popular form of fantasy sport.
Besides being a top-tier sport, cricket is also known for creating superstars and icons in the form of players, including batsmen and bowlers. This article will list 10 of the best batsmen that the world has ever witnessed. Let us begin:
Rahul Dravid
Rahul Dravid is a retired Indian batsman known as "The Wall," thanks to his exceptional test batting skills. The ex-Indian batsman was known and feared for his defensive abilities. Having played over 164 test matches, Dravid has scored a total of 13288 runs. When it comes to ODIs, the top-tier player has an exceptional record of 10889 runs in 344 games. He has also scored a total of 2174 runs in 89 matches in the IPL.
Ricky Ponting
Ricky Ponting is deemed one of the most successful captains of all time. Hailing from the land down under, Poting has led his side to numerous victories throughout his exceptional career. The ex-Aussie skipper has played 168 test matches and scored 13378 runs. He has also been a part of over 375 ODIs with a massive collective run score of 13704.
Sunil Gavaskar
Sunil Gavaskar is another prominent Indian cricket player who has left his mark on the sports form thanks to his exceptional batting skills. He was a part of the Indian team when things were not going great, but he uplifted the team by batting exceptionally in matches. Gavaskar has been a part of 125 test matches in total and scored 10122 runs in total. When it comes to ODIs, he has played only 108 games, with his total runs score reading 3092.
Brian Lara
Brian Lara is hailed as one of the greatest cricket players of all time. Besides his exceptional batting skills, the West Indian player is known for his records of scoring the highest individual runs in test cricket (400 runs) and first-class cricket (510 runs).The renowned batsman has played a total of 131 test matches and scored 11953 runs. Besides this, he has been a part of 299 ODIs, and his collective score of runs is 10405.
Sir Jack Hobbs
Also referred to as "The Master," Sir Jack Hobbs is still regarded as the greatest opening batsman of all time. He is also one of the five crickets whose names got mentioned in the "Wisden Cricketers of the Century" list. Even though he has not played ODIs or T20Is, his record in test cricket is formidable. Having played only 61 matches, he scored a whopping total of 5410 runs.
Allan Border
Allan Border was an integral part of the Australian team, and he proved his worth by carrying his side to victory multiple times. Besides being a great batsman, he was also a fine captain who led his team calmly and sensibly. Border has played a total of 156 test matches and scored 11174 runs. Besides this, he has also scored 6524 runs by playing in 273 ODIs.
Garfield Sobers
Another West Indian batsman, who is regarded as one of the greatest batsmen, was Garfield Sobers. His batting skills oozed elegance and struck fear in the hearts of bowlers.
Having played only 93 test matches, he scored a total of 8032 runs, which is a major reason he is widely considered one of the best in cricket history.
Sir Vivian Richards
Despite not being classified as an all-rounder, Sir Vivian Richards could bat and bowl equally well. However, his batting skills made him a force to reckon with. He could bash any bowler during his career with ease, which made him exceptionally dangerous. The legendary West Indian batsman has scored a whopping 8540 runs in only 121 test matches. Besides this, he also set a great benchmark for newcomers by scoring 6721 runs in just 187 ODIs.
Sachin Tendulkar
Sachin Tendulkar, or the "Master Blaster," is the idol of most cricket fans around the globe. He had an exceptional career in which he scored runs across all formats of the game. His greatest record is scoring 100 centuries across all cricket formats. He has played in 200 test matches and scored 15921 runs. When it comes to ODIs, he scored a total of 18426 runs in 463 games.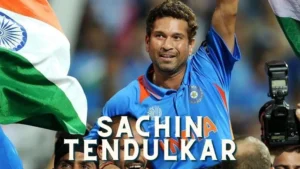 Sir Don Bradman
When it comes to the greatest batsman of all time, Sir Don Bradman is the only one who deserves the title. When he got into his groove during matches, it was impossible to stop him from putting up runs on the board. In just 52 test matches, Sir Don Bradman scored 6996 runs, which is a record in itself. His unbeaten average of 99.94 in test matches.
Besides the legendary names mentioned above, numerous players, like Virat Kohli, David Warner, etc., have the potential to get included in the list. However, only time will tell who gets added to the list.
See Also: Soccer Games