Download FIFA 23 Mod for Android Free: FIFA 23 is here with the latest 22/23 transfers and updated faces and kits. This new version has everything up to date so that you can experience stunning visuals and gameplay.
Download FIFA 23 MOD FIFA 14 today and play the latest version of the best football game on mobile. This modified version of FIFA 14 has it all covered containing all modes and features like Manager mode, cups, Tournaments, Ultimate Team, Updates Transfers, Quick Match, FifPro Licensing, New Music, etc.
Check: DLS 23 Mod Apk
---
👨🏼‍💻 Download FIFA 23 Mod:
Link (Direct)
Link (Mediafire)
Link (Apkadmin)
Note: All the Kits and Transfers are updated till the latest season transfers. Also, the English commentary is pre-downloaded in the data file So you don't need to download the Commentary separately.
---
How to Install FIFA 23? (Watch Tutorial Video)

First of all download the Apk, Obb, and Data files from the above links.
After downloading the files. You need to install the apk file. You can easily do it from any file manager and open the files wherever it is stored on your mobile device.
Now it's time to paste the Data and Obb files. For this, you need ZArchiver App.
Open ZArchiver App, Extract Obb, and Data zip files to a normal folder.
Cut and paste the data folder to 'Android>data'
Similarly, paste the obb folder to 'Android>obb'
Open the game and download commentary by following the steps given below and enjoy the game.
How to download the Commentary for Fifa 23 Mod FIFA 14?

First Turn on the Mobile Internet/Wifi. You need an internet connection to download the Commentary.
Open FIFA 22, Go to the 'Customize' Section.
If PopUp appears to Update the game. Press 'No'
Go to the 'Game Audio' Option.
Now Download the Commentary in any language you like.
If the download stops, press the download button again it will work(tested).
Does it have latest Transfers and faces?

Latest 22/23 Transfers and Faces

The game has all the squads updated, and along with this all the balls are unlocked and you don't need to be worried about unlocking them.

FIFA 23 Mod Apk Features include:

English Commentary
Fix Tournament & Manager Mode
New Real Players Faces 2022
Added Players Tattoo
Fixed Kits 2022
Fixed Hair Bug
FIFA 23 Logo Scoreboard
Fixed All Crashes






New Real Face (Not All Players)
Season Update Full Transfer 2022/23
Fix Ratings Squad, Age, and Height
The formation, Position, Captain
New Background and Display
Update Face and Hairs (200+ players)
New Kit and Mini kit
New Teams & Background Added
Red Button, which stands very differently
4K Best Graphics & New Textures
What are all the transfers included in this MOD?

Top Transfers updated Players:

Haaland – Manchester City
Antony – Manchester United
Aubameyang – Chelsea
Lewandowski – Barcelona
Cristiano Ronaldo – Al Nassr
Lacazette – Lyons
Frank Casey – Barcelona
Bisoma – Tottenham
Fofana – Chelsea
Lionel Messi – PSG
Eriksen – Manchester United
Casemiro – Manchester United
Nunez – Liverpool
What are the Requirements for Fifa 23 Mod?

FIFA 23 Mobile Requirements

1GB RAM or Higher.
Android OS 6.0 or higher
+1 GB Free Space in Phone storage to download and install the game files.
How to play FIFA 23 Career Mode of FIFA 14 Mod

FIFA 23 Career Mode of FIFA 14 Mod

FIFA 23 Career Mode is fixed where you can play the game without any lag or bugs. You have to choose any club with the mentioned club Budget. The Career Mode of this game also allows us to choose the given list of sponsors. There are many Modes offered here: Manage Team, Training, Player Bio, Manage Contracts, Buy Players, Scouting, Competitions, Finances, Calendar, etc

Is FIFA 23 offline? Yes, the game works offline you only need the internet to download the Commentary and other database files once. After that, it is totally up to you how you want to play the game. You can also skip the initial part also, all you had to do is just download the game files to install the game.






FIFA 23 MOD Apk is built in a way that you enjoy the best football gaming experience on your hand without any limitations. The FIFA 23 MOD requirements are not very high, as the game is just the modified version of FIFA 14. So, it can easily be played on any device without worrying about RAM or memory.

Check Out: GTA 5 Apk 200 MB Offline
Download FIFA 23 Mod FIFA 14 Apk Obb for Android | Latest Transfer Updates & Offline
Fifa 23 Mod Fifa 14 Apk+Obb+Data Offline Download comes with new season kits new balls and up-to-date player transfers. The game works offline as you will be able to play the game without the internet. Manager modes also work offline, so you can manage your team anytime, anywhere. FIFA 23 is very flexible with all the playing styles like Target Man, this strategy has excellent ball control and passing skill.
Feel the thrill of real soccer with FIFA 23, experience the best version of FIFA with stunning visuals and gameplay, compete in all the major leagues and cups of the world, and play with your favorite players and teams. You can download the Apk and Obb for android form from the link given in below.
Check out: FTS 23
FIFA 2023 Mod has HD Graphics
Is FIFA 24 on the Phone? Yes, FIFA 23 is on mobile and you can play it by downloading the game here. Just follow the simple steps given above and enjoy playing this amazing game. There is also the facility of training mode where you can practice your skills and strategy to play inside the game.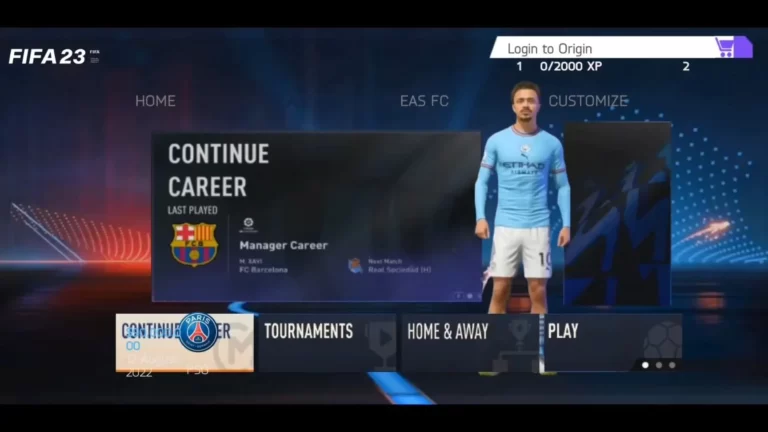 FIFA 23 Android Offline Apk Obb Data Camera PS5. It offers you to play any game that is happening around the world, most of the high-voltage matches are featured happening around the world. This version also allows you to play Career mode along with Voltas Football (the renamed version of Ultimate Team).
Faces Updates:
Faces updated of Benzema, Lewandowski, Salah, and Foden.
A little sharpness has been added along with the improvement in the hairstyle of the players.
A few faces which were blurred in the last update are now fixed and are very near to the original.
Gameplay/ Preview: